Books Reviews For Double Your Pleasure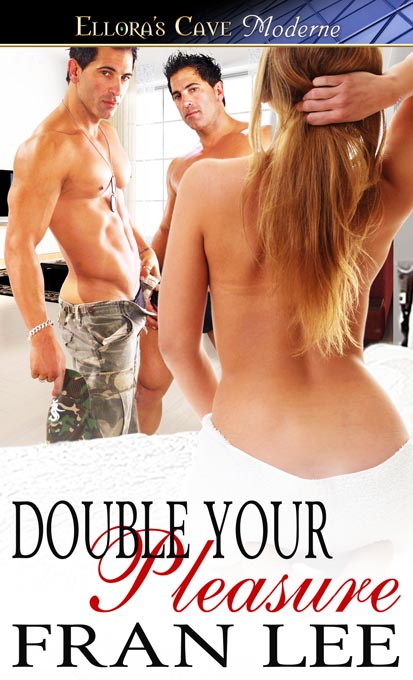 Title: Double Your Pleasure
Author: Fran Lee
Publisher: Ellora's Cave Publishing
Reviewer: Stefani Clayton
Rating: 4.5 Stars
Heat Level: H
When Helen trades shifts with her boss for the week, she thinks it is just for convenience. Until she looks up to discover the most handsome man she has ever served coffee to. A shame he canít see past her bust line to have any real effect on her libido.
Helen canít believe her luck when the guy comes back, only this time he is looking her in the eye, and he is outrageously good looking. Jason and Jonathon Blackstone are identical twins, and they also happen to have identical taste in women. When the brothers spot Helen behind the counter, they each have their own plan of seduction.
Before long, Helen finds herself living with the brothers, and soon the living arrangement isnít the only thing on Helen's mind.
Where can I find a pair of men like these? I found myself almost envious of the coffee shop girl and all the hot encounters I knew she was going to get. This was a sexy read!
Jonathon Blackstone isnít looking for long term and likes to have fun, while his identical twin Jason is the serious brother. Both are sexy as all get out, but I have to say, I like the bad boys! Helen's character is your average girl next door. I did like her character, despite my obvious envy.
This story flows beautifully and there is nothing dull about this threesome. My only complaint is I would have enjoyed a bit more. This story was a quick bathtub read, and I just didnít get enough. The sexual scenes were hot, very sexy, and left me wanting lots more. If you are short on time, but need an erotic romance fix, grab a copy of Double Your Pleasure. Itís a sure thing!
Seriously Reviewed says...
Story: 9
Presentation: 9
Total: 18
Publisher: Ellora's Cave
Erotic
Blurb: Helen is working a latte shop just outside an upscale high-rise apartment in Manhattan. Switching shifts with her boss, she finds herself face-to-face with the most delicious, maddeningly arrogant men sheís ever met. Heís hot and sexy as hell, but the fact that he canít lift his eyes from her chest is a strike against him. Too bad heís such a jerkÖshe would have loved to get to know him better. But as soon as heís out of sight, she turns around to find another one, just like him, but this one looks her in the eye, and has a smile that takes her breath away. Dear Lord, there are two of them?
Jason and Jonathon Blackstone have the same taste in clothes, cars and women. Identical twins, they often trade clothesÖand sometimes they even share their women. Jon may have seen her first, but Jace intends to be the man who gets her. Unfortunately, he may just end up having to share again, since the sexy coffee girl seems to want them both.
Review: HOT HOT HOT~!~!~!~! This story leaves little doubt about the ability of Ms Lee to craft a Smokin story!
From the word GO this is a fast paced, sexually steeped wonder for the senses that is sure to leave you with a smile and maybe a bit damp ;) With two (2) super studs and one woman all in the same condo, things are bound to get steamy........and BOY DO THEY!!!!!!
Ms Lee, *SNAPS* on a wonderful job. This story is the perfect example as to why we love your work :)
The Romance Studio says...
Double Your Pleasure
Fran Lee
Contemporary erotic romance
Available from Ellora's Cave
ISBN: 9781419927102
January 2010
Having her office job go extinct with the economy, Helen is working at a latte shop outside a beautiful up-scale apartment in Manhattan. Switching shifts with her boss finds Helen up close and personal with the most sinfully gorgeous man she has ever met. Too bad he had to go and open his mouth to prove what an arrogant jerk he was. If that wasn't bad enough, Mr. Sexy couldn't seem to lift his eyes any higher than her chest. Go figure!
Helen can't believe her eyes, standing in front of her just minutes later is the same man who just walked away. Or is it? This one seems a little more sincere but no less sexy. Oh my, two of them? Was it possible?
Jonathan and Jason Blackstone are identical twins who have the same taste in everything. Used to sharing on an occasion or two, the men have even shared a few women with pleasurable results. Jonathan and Jason both want Helen and even though Jon was the first to see her Jace intends to be the man that gets her. It looks like Helen has a few ideas of her own and doubling her pleasure is just the beginning.
Once again Ms. Lee continues to entertain her readers with a story that is witty, wry and simply delightful. This talented author's bright voice sparkles with her intriguing and tantalizing humor. Double Your Pleasure is a lively, brash and sizzling romantic dance of scandalous seduction between Helen and her two men that is captivatingly hot. The characters are far from conventional -- they're complex and endearing. Helen is a tough, independent and sassy heroine who readers will relate to. Jon and Jace both are deliciously sexy, while one is thoughtful, sincere and a little naughty the other is abrasive, determined and a whole lot naughty. The sex while blistering hot, full of pulse pounding erotic adventure it is truly hard for the reader to feel a realistic bond or connection between Helen and her two men. The story seems to jump rather quickly to its rousing conclusion lacking a truly authentic depth of emotional intimacy that is portrayed between Helen, Jace and Jon feeling more like a sexual fantasy.
Readers' looking for some light and fun entertainment this is the perfect treat!
Overall rating: Four Hearts
Sensuality rating: Explicit
Reviewer: Shannon
February 26, 2010